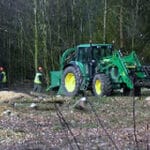 Site Clearance Leicester
Active Site Clearance, a service provider based in Leicester, offers a comprehensive, reliable, and efficient tree, vegetation and land clearance service. We remove trees, vegetation, scrub and associated roots and stumps and any other associated waste that is required to be removed. The sites cleared are prepared ready for landscaping, development, or construction projects.
Our expertise lies in executing large-scale industrial and commercial site, land and tree clearance projects. We can dispatch qualified staff and suitable plant & machinery to any site in the UK. We also undertake general site clearance of spoil, muck, slabs, concrete, soils and structures as part of the clearance service.
Our Process
Upon clearing a piece of land, we arrange the most efficient, cost-effective, and environmentally acceptable disposal or recycling of the product or waste we produce.
We can chip, shred, or mulch tree and vegetation material, enabling its utilisation to enrich the site's topsoil or export and recycle as biomass material.
Irrespective of the land type we clear or the waste we remove, you can trust that the resulting site will be clear, level, and fully prepared for any construction, development, or landscaping project.
Machinery
We employ high-powered machinery to ensure prompt and efficient land clearance services that adhere to project schedules.
When mulching vegetation, we leave your site ready for groundwork. In most cases, the mulched material is either incorporated into the topsoil or scraped up and stockpiled on-site for export or used as a mulching medium.
For professional and environmentally friendly site clearance, land clearance, and tree clearance services in Leicester, please get in touch with Active Site Clearance. We will discuss your specific requirements and provide a fee proposal within 48 hours.
For more information on Site Clearance Leicester please send an contact us or phone us on 01257 462252.