A comprehensive, reliable and efficient Land Clearance service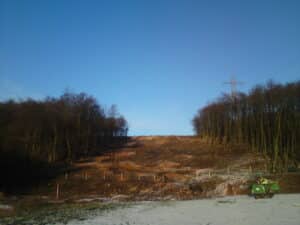 At Active Site Clearance, our comprehensive, reliable and efficient land clearance service involves removing buildings and structures, plants and trees, and other debris and rubbish with the ultimate aim of levelling and flattening a site ready for landscaping, development or construction.
For small domestic clearance projects and other small sites, we use handheld equipment and compact machinery to tackle sheds and outbuildings, concrete or stone paths, masonry walls, patios and other garden structures and waste, together with bushes, trees, brambles, and any remaining ground level foliage.
We're also skilled in carrying out larger scale industrial and commercial land clearance and excavation projects, and we can deploy qualified staff and suitable plant machinery to any site which requires building demolition, extensive tree and vegetation clearance, or hazardous waste removal.
After clearing any piece of land, we can then arrange for the waste we collect to be taken away and either disposed of or recycled in the most efficient, cost-effective, and environmentally acceptable way.
Plant or tree material can be chipped, shredded or mulched and either used to enrich the topsoil on the site, or recycled as biomass material. Non-reusable waste will generally be used for landfill and other reclamation projects. And hazardous or dangerous waste will be transported and disposed in line with any relevant legislation or policies.
But whatever kind of land we clear – or waste we remove – you can rest assured that the finished site will be clear, level, and more than ready for any construction, development or landscaping project.
For more info on our Land Clearance Services please send an online enquiry or telephone us on 01257 462252.