Expert Site Clearance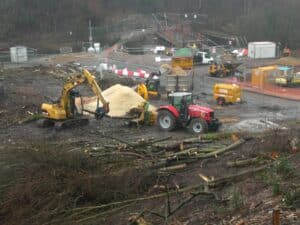 We have the machinery and expertise to enable us to provide a professional clearance service, whether it be land, tree, vegetation clearance, or contaminated land remediation. Active Site Clearance has an extensive range of techniques and waste disposal methods.
Our fully trained and experienced operatives (CSCS carded) undertake excavation and handling of contaminated, hazardous, and liquid wastes.
We believe in sustainable site clearance and can continue to offer consultancy services once the land has been cleared.
We provide clearance services nationwide to contractors, consultants, architects, landowners and government authorities, amongst others.
Tree Clearance
We undertake tree clearance rapidly and safely, clearing entire trees of any diameter. We have vast experience of harvesting trees and whole tree chipping the resulting material can then be incorporated into topsoil or loaded onto walking floor artics to be transported for power station biomass fuel.
Vegetation Clearance
Our experienced staff have completed vegetation clearance in a variety of settings from railway verges to commercial land plots in preparation for construction.
Land Testing
Prior to commencing works on site, we offer a variety of land testing and surveying options.
Land Remediation
We have an extensive range of environmental / contaminated land remediation techniques and waste disposal methods. We carry out the onsite remediation processes to clean-up contaminated land to provide our client with a clean and valuable site on which to develop. We believe in sustainable contaminated land remediation and can continue to offer a service of consultancy once the land has been cleaned.
Invasive Weed Control
As part of our site clearance service we also carry out Invasive Weed Control, including Japanese Knotweed Removal and Giant Hogweed Removal.
For more info on our Clearance Services please send an online enquiry or telephone us on 01257 462252.